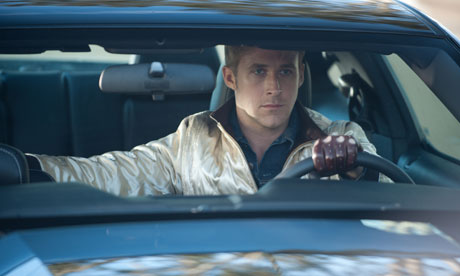 [Drive, 2011. image from guardian.co.uk]
So to follow on from my previous humble beginnings of this blog, I am going to quickly explain the movie that has been replaying in my head the past two weeks and determine why it had such an impact.
Drive
, is already being recognised by critics as a stand out film of the year and having heard the hype and seeing the VERY promising trailer, I awaited the film with much excitement. More about this in a second...
A trailer has two to three minutes to completely gain your interest and belief that your hard earned cash would be best spent in a dark room in silence for 90 minutes or more. For a 90 minute film you have to assess less than 3% of a films visuals to decide on whether you will watch the other 87 minutes. That's a tough assignment for anyone. So
Drive
must have done this pretty damn well for a film fan such as myself to get behind it.
Key visuals always pack a hard punch and in film these are incorporated into moments or key scenes of a plot. So what did Drive have that I loved enough to see more;
- LA at night. Sweeping shots from the sky of varying skyscrapers and nightlife dominating the horizon. Maybe it harks back to the tech-noir style of that opening shot of Blade Runner; a burnt skyline of industrial architecture bleeding into the distance. The director Nicholas Winding Refn has previously stated that he categorizes the movie as neon-noir. Perhaps not a direct relation to the sci-fi classic but there are parallels in my mind...
- Ryan Goslings speech. Quick, precise and to the point would not only be how he deliveres the basic principal of his job but also the way the trailer is cut together with a beating score resembling the pace of a stop watch on borrowed time. Pace can make or break the attention span of the viewer...
- Locations. Minimal in many ways but stylish to the hilt. Anyone who knows about this film will have probably heard about 'that elevator scene'. Shot so artistically it only heightens the sudden violent impact moments later. Another point that I've come across in the trailer is the view of the locations; not static shots but slow moving and paning views. These could be seen as the drivers mid-height view from a car thats slowly crawling the streets.
- Colour. The colours are often strong, vibrant and warm, not cold as you might suspect. Rather than cold tones to show a merciless vengeful assailant, the warmth shows his actions are emotionally fuelled. This is the Cowboy with No Name who is silent in speech but loud through his actions. Rooms and corridors are warm.
- 80s nostalgia. OK, not for everyone but I for one am a fan of nostalgia trips. One of the best examples this year is Super8 and it's nostalgic for a decade I didn't even witness! The poster is intriguing enough with that hot pink font (Mistal I believe) and the soundtrack is just amazing from the get-go! Two particular tracks are now in my own music library;
Kavinsky's Nightcall (feat. Lovefoxxx)
and
College's A Real Hero (feat. Electric Youth)
. 80s electo pop hasnt been so cool!
I wasn't sure where this post would eventually take me but with these pointers based on the trailer alone and personally having seen the film I'm left with two things:
1- a montage of shots dripping with style scored to the thumping beat of Nightcall and
2- a need to get in a car and drive the street with no end goal.
Film at its best transports us somewhere else for a while and if I continue to travel to that place in my mind then it's done its job. That or I'm losing the plot. Oh well, where are my keys? I'm going for a drive...
[Ryan Gosling, Drive, 2011, image from IGN.com]
edit:
Having written this over the weekend, this story recently made its way to me. Man, people infuriate me! This woman really doesn't help with the stereotyping of American people! (My apologies to Americans, I really like the USA, just not people who are this stupid...)
WOMAN SUES OVER MISLEADING TRAILER